It has officially been more than a month since we moved into our Kaohsiung apartment. Has time really passed so quickly? Is this the fifth time on this blog that I've bemoaned the passage of time? I'll move on then. It's natural that we've also settled into a kind of rhythm with certain themes that come up again and again. Enjoy a picture-heavy post about a day in the life of Steve and Connie in Kaohsiung!
8:00 AM The first battle of the day is to get up. I think everyone is familiar with this battle, but not the long-term kind like we're waging. We have projects, errands, and things that we'd like to do… but practically nothing that we HAVE to do, unless we have a Skype appointment with our friends or family. On the days when we've successfully roused ourselves out of bed before 9 am, we try to take a turn around Central Park.
Central Park in Kaohsiung is about a 10 minute walk from our apartment, and no matter how many times I tell the sky that it's the middle of November, it persists in being in the upper 80's with high humidity in the south of Taiwan. The upside of that of course is that everyone is out and about. Like in many parks in China that I'm familiar with, Central Park is generally filled with the elderly getting their exercise by doing tai chi or dancing in a group or just some aerobics. Seeing them is a cheerful reminder that people twice or three times our age manage to get up at the crack of dawn. We return home, humbled.
One of the things that we also missed out on in our first week or two due to our late bedtimes was the morning market. We already knew that a block away, the Nanhua Night Market was well and alive during most of the day and well into the evening. However, we found out last week that there's also a lively morning market that probably sets up around 6 am to do a roaring trade in fresh vegetables, fruit, eggs, and meat, including seafood and domestic meats. It's noisy, crowded, and vanishes promptly around 11 am. If we had continued getting out to seek lunch around 1 pm, we'd never know (except for the lingering odor of fish) that this existed. Moral of the story: get up early.
10:00 AM After we come back and have some breakfast, we get some time to talk to our friends. Taiwan is 14 hours ahead of Central Time, now that it's Daylight Savings, so our morning is usually a great time to talk to people in the US at the end of their day. We've had Skype conversations with both my parents and Steve's parents, who are all glad to see us and want to know about everything that we've been doing! Steve has been Skyping with his friend Andrew because they are working together on a project. I also started a feminist book club (more like a feminist movie/book/pop culture club) with several friends, and love talking to them and keeping my mind engaged. Our next "reading" is a Woody Allen movie!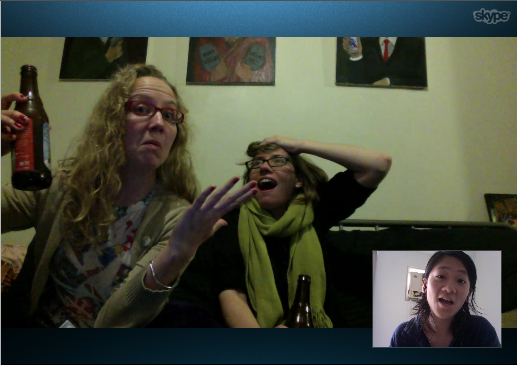 Otherwise, we're both trying to work hard on our projects. Steve is coding a number of things and happily spends most of his mornings either programming or reading some Reddit and learning Chinese from disreputable sources. After much soul-searching and thinking, I am still applying to graduate school in public policy, but also taking this year to talk to many more people about a possible path in career counseling. Still, that means finishing my applications. The first one is due December 5 – eek!
2:00 PM Somedays, we have errands to run. In Taiwan, the tap water isn't quite good to drink. It's not dangerous, per se, but it does have more minerals than we're used to in the US. Steve complains that the bathroom smells like sulfur, so we take two 6-liter plastic bottles about two blocks away to a water-filling station, where you can fill up 10 liters for just 5 NT. It's pretty convenient, and we go every two or three days to fill up on water that we use to boil pasta, make coffee or tea, and for just drinking straight. Other days, we also take a few plastic bags and go to the PXmart nearby, which is the biggest department store, to get eggs, snacks like Lays or Oreos, and shampoo or soap. [Side note: we miss Western snacks so badly that we tend to load up on things like potato chips, which we would never do if we were home. In Taiwan, it's harder to get our hands on quinoa chips, dried fruit and granola from Trader Joe's, or my own home-made nutella chocolate chip cookies (yes they are great here they are].)
5:00 PM Every evening, we try to get some sort of exercise. Kaohsiung has a great bike rental system, as I have mentioned, I believe. You can take it out from the stands using either a credit card or a registered I-PASS (which you use on the MRT here), and it's free for the first hour, charging just 10 or 20 NT each half hour afterwards (price dependent on whether you use a I-PASS or credit card). Sometimes we like to ride along the Love River –and that's the real name of the river in Kaohsiung, guys, I wouldn't make that up– or take it down along the river path to Xiziwan, where the city turned their old train yard into a beautiful public park. Chicago, learn some lessons!
7:00 PM Finally, we get dinner out. One of our favorite places is called New Paradise, one of several restaurants around Kaohsiung which offer most of their stir-fried entrees for 100 NT. New Paradise, which is about a 20 minute walk away, has a delicious cilantro and beef dish which Steve inhales as soon as he gets his chopsticks on it. They also recognized us after our first time there thanks to Steve's beard, and the waiters there like to make conversation about why Americans grow facial hair. 
For an after-dinner treat, we usually try to pick up some fruit at our regular fruit vendor at the Liuhe Night Market. It's one of the more crowded and touristy night markets in Kaohsiung, but it's conveniently located nearby, and these guys almost always have mango even in the winter, which is my favorite. They sell two boxes for 90 NT, and I've yet to see a better deal around. The alternative is to get a fresh fruit smoothie. Our favorite vendor has a lovely corgi named Orange that we like to pet.
11:00 PM Back home, we commune with the Internet, reading Facebook, watching Netflix, and having loud debates until one of us decides it's time for bed. Tonight, inspired by a BuzzFeed article I read, Steve and I each drew a map of the U.S. from memory with all 50 states. We both did all right – he forgot Arkansas, and at first, I forgot Michigan, Mississippi, and Alabama, but remembered them on my own. I am really rusty on state capitals, though! We teased each other about what we forgot. Here are our efforts. Not too shabby, considering how other people on BuzzFeed performed.
We didn't manage to get to bed early tonight, like most nights, but hopefully, we won't sleep until noon tomorrow! Tomorrow or the day after, I'll make a post about our trip to Cijin Island, and some discussion of exciting plans in store for the next week or two! Obviously, we have some new photos up too. Enjoy!
Good night,
Connie