When we came up to Taipei, I asked my dad for a little bit of advice on what he thought was worth seeing. After all, my parents did visit Taiwan this March after the Lunar New Year, in part to see what in the world I had been raving about! When asked for the one touristy spot we should see if we had time, he confirmed that we should visit the National Palace Museum. To explain what the National Palace Museum is necessitates a detour into Chinese and Taiwanese history…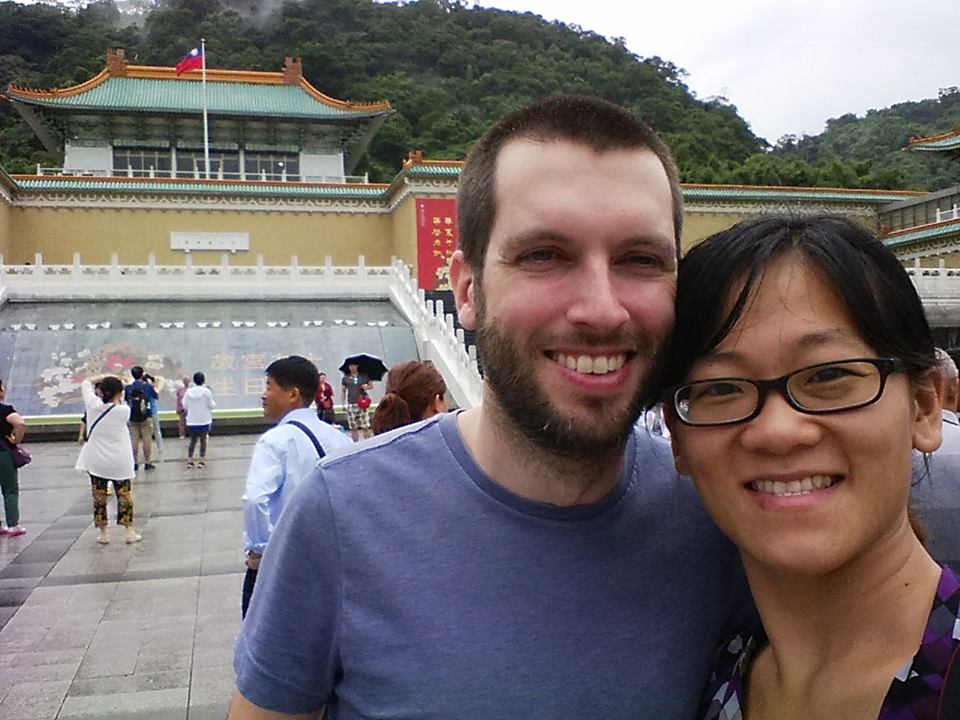 Behind Tiananmen Gate in Beijing is the entrance to the Forbidden City, where the Palace Museum of China is to be found. Housed in the old palace of the Ming and Qing dynasties, the Palace Museum holds all sorts of precious artifacts, textiles, porcelains, and works of art and history from China's thousands of years of history. Except that is, some of the best examples. In 1948, when the Nationalists under Chiang Kai-shek were about to lose to the Communists and Mao Zedong, they retreated to Taiwan and took the best selection of artifacts from the Palace Museum with them. Most of those artifacts remain in Taiwan today, housed in the National Palace Museum in Taipei. Some say this was a good thing, because during the Cultural Revolution (1966-1976), many of China's artifacts were destroyed by Chinese people themselves. The Palace Museum in Beijing barely escaped the same sort of destruction, thanks to guards specifically deployed to protect it.
A splendid view. #Taipei #Taiwan pic.twitter.com/ztu1f7yT4d

— Connie Ma (@ironypoisoning) June 7, 2015
So that's part of why the National Palace Museum in Taipei gets so much traffic, not only from Chinese tourists but also from people from all over the world. It does represent some of the most stunning pieces of art and history that Chinese civilization has to offer. With hundreds of thousands of beautiful pieces,  we had a hard time seeing everything, and couldn't even take pictures due to the ban on photography inside, but here are some of the highlights.
We spent the first part of our visit wandering around the porcelain exhibits. We saw a lot of the white porcelain with blue patterns and designs, which have been imitated so many times you may not believe that the cup in front of you is actually hundreds of years old! But they're real originals. The colored glazes on some of these porcelains and pottery is absolutely amazing. I admired the "sweet white glaze", which is a creamy white shade with designs that are subtly raised against the side of the bowl or vase. There was also a cobalt glaze that gave a deep, intense blue to the pottery. My favorite was a metallic purple glaze, which is a deep gold-brown-purple combination that's hard to describe, tinted differently depending on the light. There were many teapots, some shaped like pumpkins.
When we went to the rooms with calligraphy and books, we watched this beautiful interactive map for quite a while, with a few dozen other people who were all entranced. You could touch the screen and write your surname on there with your hand, and then select the character. The map would then show you the evolution of how that character was written over thousands of years, and track where that surname originated within China and where it spread geographically over time. This is possible because, despite the huge amount of Chinese people in the world, most of them have a relatively small number of surnames. According to that Wikipedia link, the 100 most common surnames account for 85 percent of the people. The phrase 老百姓 literally means "old hundred surnames" but has come to colloquially mean "the people" or "the commoners". And yes, my surname is one of those. I actually share a last name with Ma Ying-jeou, the current president of Taiwan, who has a rather terrible reputation at the moment and dismal approval ratings. So anyway, I try not to advertise it too much. We also saw some more interesting stuff in the rare books section. Originally, many texts were housed in flat wooden boxes which did not open from the slat on top but from the front, which also had the title and information on it. That way, you can take out the texts while the boxes are still stacked.
Sometimes, you get museum fatigue while looking at all these marvelous things – you could literally spend your whole day gazing at them and learning about them. After a while, they just seem like another pot or another book to you. I found it interesting to look at them not as beautiful creations but more as the work of artisans, craftspeople, and writers who lived a long, long time ago. They've been dead for decades and centuries, but how did they make these lovely creations? What kind of practice and training and hard work went into it? Do people today still practice this? It's a different way to appreciate all the artistry. Rather than thinking of it as being distant and removed from you, I prefer to think "someone made this" and see it more as something that that person left behind in this world.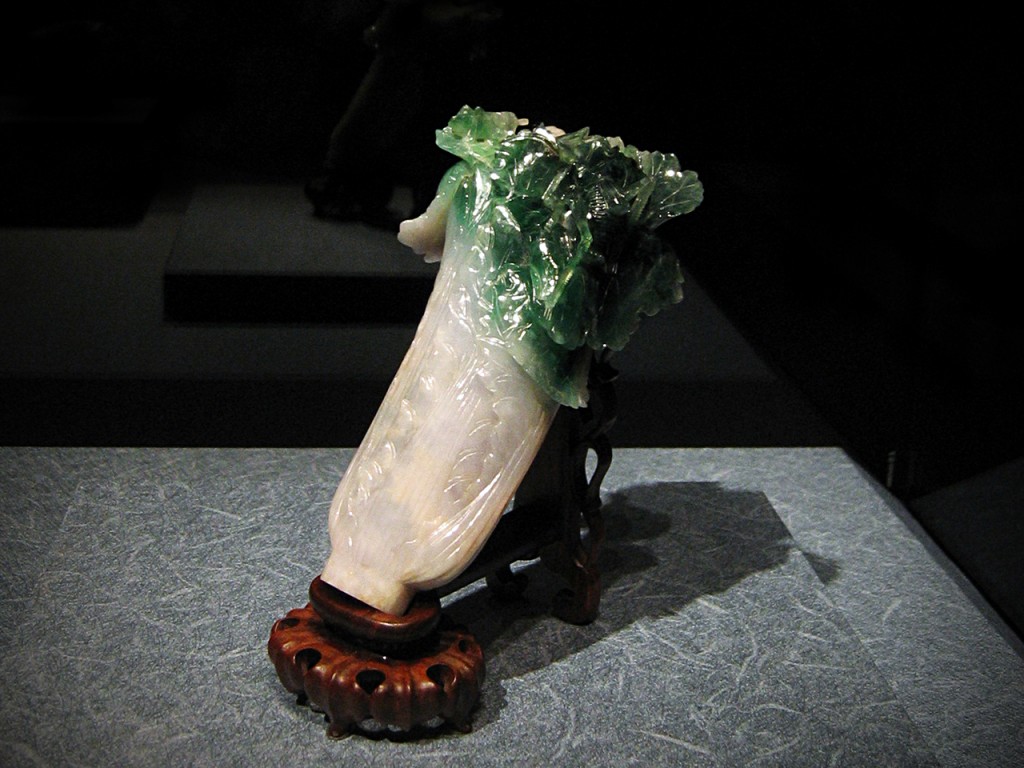 The most renowned artifact in the National Palace Museum is without a doubt the jadeite cabbage. Jade itself has a whole section of the museum devoted to it, because it has an incredible history and cultural connotation for Chinese people, but the jadeite cabbage is set apart. While flawless and pure pieces of jade are prized, the jadeite cabbage is made of a single piece of white and green jade that is veined with imperfections and spots. However, the fact that it was rendered into a cabbage barely as long as the size of a human hand is what makes it a lovely piece of art – what is unacceptable material by some standards of art actually elevates the final product and makes the jadeite cabbage even more special and unique. It even has a very tiny cricket on it. The sculptor of the jadeite cabbage is unknown, but it came to the notice of the royal Qing court in the 1800s, and was much cherished by the Empress Cixi.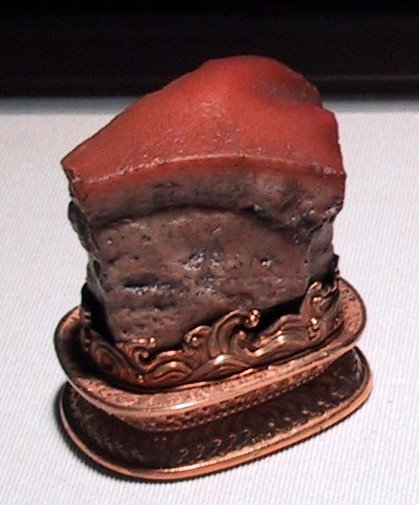 We waited for at least ten minutes in a long line of tour groups to see the jadeite cabbage in a special room. There was a Chinese-speaking tour group in front of us, and a Japanese one behind us. The room also featured the meat-shaped stone, a piece of agate that looks incredibly like a piece of pork belly. Just goes to show – people absolutely love things shaped like food, especially when they're not food! Later on in the gift shop, we found the jadeite cabbage as essentially everything that you could imagine – a fridge magnet, a cup, a charm, even an umbrella. So of course, we bought ourselves a fridge magnet for 100 NT. =) Now the jadeite cabbage is ours too!
Next time, I'll review Taipei's cat cafes!!
Connie