Living in Taiwan, it can be oddly easy to forget that we are on an island, albeit one that is very large. In each city we have spent a bit of time in, we have never been far from the ocean. A map of Taiwan reveals about a ring of a dozen big cities which hugs the coastline. The middle of Taiwan is mountainous and features just two roads which cross from the east to the west coast. That being said, sometimes it's easy to forget because we barely budge from our apartment in the middle of Kaohsiung, hemmed in by low-rise apartments and large boulevards and streets.
That all changed when we finally visited Cijin Island. Long one of the attractions of Kaohsiung, it will horrify most residents when they hear how long it took us to finally make our way to Cijin (about three weeks, all right?). Right off one end of the MRT's Orange Line, at Xizihwan Station, one can take a five minute stroll to Gushan Ferry, and board the shortest ferry ride in the whole world (approximately 4 minutes sailing) and disembark 15NT the poorer on Cijin Island, a long spit immediately off the coast of the city. It actually used to be a peninsula, but was severed at the southern end to create a second port of entry for Kaohsiung, which is Taiwan's second largest city and 9th largest port, as Steve has become fond of noting.
The main attractions on Cijin Island are its fort, lighthouse, and beach. The fort looks much like those I've seen in San Juan, Puerto Rico, and Christiansted, St. Croix in the Virgin Islands, but provides the most beautiful and expansive view of both the island, peppered with pastel houses of every color, and Kaohsiung City with its majestic Sky Tower in the haze. The lighthouse, just a short walk away, is a whitewashed structure with beautiful glimpses of Shoushan, the mountain immediately to Kaohsiung's northwest, and Xizihwan Bay, where National Sun-Yat Sen University is located. Tourists are scarce even here, one of Kaohsiung's most touristy attractions, and its most constant visitors are three dogs who enjoy lazing about in the sun.
The beach is filled with basalt sand, dark and grainy. To me, it is always evocative of the thick black sesame paste used to create some Chinese desserts. But the water is incredibly warm and wonderful to wade in. When I come to the ocean, I always love to dip my toes in and to taste the salt water. Years of living by Lake Michigan never cured me of disappointment from the lack of a salty tang to the lake breeze. I do love the ocean, and here, it is everywhere.
We've been able to share Kaohsiung's beautiful, leisurely seaside with a few of our friends. I met Sam in my first year hum class at UChicago, and this fall, when he noted he'd be traveling to Taiwan for business and leisure, I jumped at the chance to persuade him he should head to Kaohsiung. Steve and I took him to the regular spots on Cijin, where he raved about the view and weather, and tried fifteen different seafood dishes. We also took rental bikes and wove in and out of Kaohsiung's streets until we ended up watching the sunset at Xizihwan Bay and had a cool beer at Fisherman's Wharf.
Last week, I also had the chance to see Diane, an expat and English teacher we met during our brief few days in Taipei. She came to Kaohsiung for a mini-vacation from her job of teaching English, and proceeded to marvel about how warm it still is in southern Taiwan and how much less polluted the air is. We took bikes around the city on one of Kaohsiung's immaculate bike paths, enjoyed cold sesame noodles around Xizihwan, and hiked up to the former British Consulate at Takao (Kaohsiung's old name), all the while joking about how the British do enjoy picking the most scenic views wherever they went. The walk reminded me very much of Government Hill in Charlottetown Harbor on St. Thomas, which was equally picturesque. To conclude the afternoon, we shared a dish of Taiwan's famous mango shaved ice, which was just about the most scrumptious thing I've ever had so far.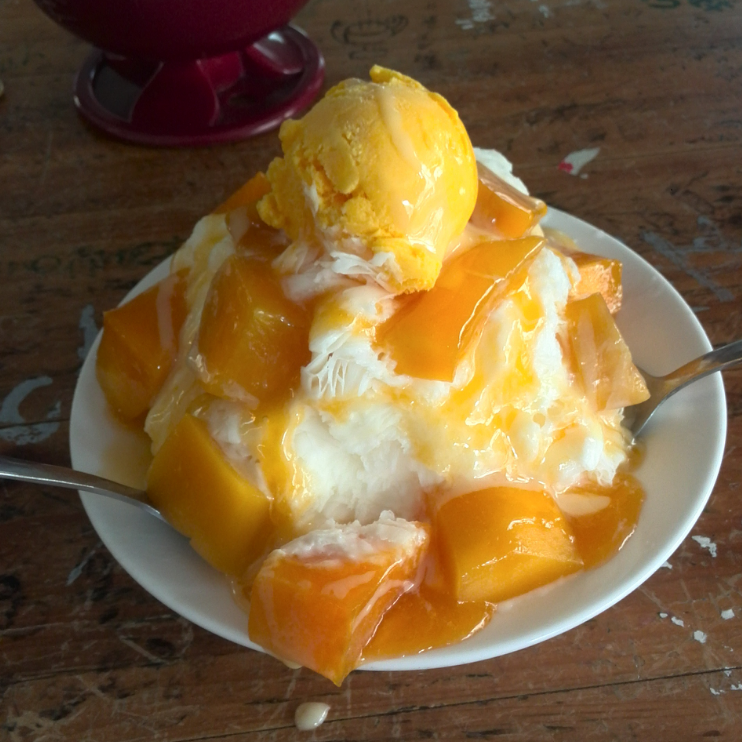 Last week was Thanksgiving, and we were fortunate enough to celebrate with other Americans, whom we found through the Couchsurfing (CS) network. CS helped us connect with Ken back in Tokyo, and here, has been our conduit into a great group of locals, expats, and foreigners. The local weekly meet-up is at a stir-fry restaurant within walking distance from our apartment, with reasonably priced beer, and we've been delighted to enjoy conversations with people from all over Taiwan, Europe, America, and the world. Erin, a Couchsurfer who just started her own café, the Seattlite, on Cijin Island,  hosted a merry Thanksgiving potluck to which we brought my now Thanksgiving staple sweet potato rounds (of Smitten Kitchen fame). We had a great time enjoying mulled wine, trying to figure out if the turkey was fully cooked, and playing Ninja. (That's right! I finally succeeded in bringing Ninja around the world!) Especially in these situations, I am extremely thankful for the journey of traveling, and how it makes it possible for us to meet and share our lives with people that we would never have met otherwise.
Steve and I have been slowly realizing that all things considered, we could not have picked a better place to stay in Taiwan. Even now at the beginning of December, we are enjoying low 70s during the day (20-25 degrees Celsius) and sweater weather at night. I'm thinking of encouraging Steve to do a hike on Shoushan with me, now that even moderate exercise feels comfortable in this weather. Moreover, the environment here is truly laid back, and it's easy to enjoy the rhythm of life. The food is delicious, the people are friendly, and I have never felt uncomfortable going out or coming back at any hour of the night. I even feel that we've lucked into a wonderful scene of Couchsurfers, both expat and domestic!
More thoughts to come with Steve's input about our trip to Taichung, Sun Moon Lake, and other mysterious adventures!
Happy December,
Connie